Choosing the best grow tent for growing marijuana from the numerous different manufacturers on the market may seem overwhelming, since they all claim to be the best. So, to help you narrow down your options, we've put together this review listing and comparing 12 of The Best Grow Tents around.
Why 12? To make sure we can give you a wide range of different sizes and prices to choose from and help you find the one that will work best for your growing needs and budget.
Check out the table below—we've listed the best tents in order of size.
12 of The Best Cannabis Grow Tents
We will also talk about what to look for when purchasing a grow tent.
And lastly we will go over the pros and cons of using grow tents if this type of growing is something you are still on the fence about.
Then it's on to the reviews...
(Already persuaded of the advantages of grow tents and just want to skip straight to the reviews? No problem, just click here.)
Why Use a Grow Tent to Grow Cannabis?
When growing cannabis indoors, there are many variables to consider. The correct temperature and light conditions must be maintained while keeping out pesky pests in order for your plants to flower successfully. This perfect growing environment is almost impossible to create by only using a normal room.
Grow tents simplify this process.
Growing your marijuana in a grow tent gives you complete control of the environment and allows your plants to grow healthy and happy.
Pros and Cons of Using a Grow Tent for Growing Marijuana
Pros
Growing marijuana in a grow tent is a great option for those who wish to grow indoors. One of the main advantages is that grow tents allow you to completely control the environment that your marijuana is growing in. You can control the humidity, ventilation, temperature, and light. It is easier to maintain all of these variables in a tent rather than a room.
Grow tents are also energy efficient and help to save you some money on your electric bill. Quality tents are designed to take full advantage of your gardening energy and not waste any resources. They increase the efficiency of your grow lights exponentially by reflecting light back onto your plants.
Odors are contained within grow tents, making them very useful when dealing with particularly fragrant strains. The grow tent locks the odor within its interior. Other equipment can be added to the grow tent, like a carbon filter, to further reduce the smell. This also helps you to not draw attention to what you are growing.
Cons
The downside to grow tents is the additional equipment needed to use them. This includes purchasing lights, fans, exhausts, hydroponics systems, etc. and then installing this equipment.
Although this may seem like more work, this gives you more control of your marijuana growth and the ability to customize your lighting and cooling.
Also, if you find this additional equipment is something that you need a little help with, we have many guides on our site to assist you—check out the above links. We will make decking out your grow tent and installing the necessary equipment a breeze. Or check out some hydroponic grow boxes if you just want a simple all-in-one turnkey solution.
What to Look for When Buying a Grow Tent
Using a grow tent has a lot of advantages, but which tent should you choose?
You'll find there are tons to choose from, but they are not all created equal. When determining the quality of a grow tent, there are certain key characteristics you need to look for, and some things to avoid. Keeping them in mind will help you easily spot which ones are better than others. Here are the key things to consider when making your choice of grow tent.
Fabric density
Reflective material
Zipper strength
Frame durability
Ventilation and exhaust ports
Fabric Density
Fabric density is measured by "denier" and average tents range from 120D-600D. High quality tent fabric is upwards of 1680D. Choosing a tent with a higher density ensures that it will contain any noise from the equipment you use and no smell will escape the tent. Just as importantly, light won't seep through denser fabric. Risk of pests is also reduced by a thicker material. And denser fabric is more durable, reducing the chance of tearing or ripping your tent.
Reflective Material
The efficiency of your grow lights is greatly increased by the quality of the reflective interior of the grow tents. But not all reflective material is the same. You want to look for a Mylar interior with as close to a 100% reflective rating as possible. If the manufacturer mentions a diamond pattern on the Mylar interior that is also a plus, as this pattern is thought to give the best reflections.
Zipper Strength
The strength and durability of a grow tent's zipper is very important because this is one of the most used parts of the grow tent. Due to everyday use, the zipper usually suffers the most wear and tear and is the first point of failure on a grow tent. The zipper needs to be heavy duty and strong to last as long as your tent does. The zipper also needs to be able to zip and unzip smoothly, as this will lower the risk for damage as well.
Frame Durability
Having a strong frame is necessary to make sure your grow tent will stay stable. The most durable frames are made of steel. Other forms of metal are still considered strong, but plastic is usually something to steer away from.
Frames that connect by a snapping mechanism to lock into place when assembled are ideal, as there is less chance of structural failure. Tents that offer height adjustability may be a feature you want, if you are interested in strains that tend to grow higher.
The corners connecting the frame are another piece to pay attention to. This is the part that is holding the frame together so it needs to be strong. Usually they are constructed of plastic but they can be made of metal. High quality tents will have an interlocking nap piece to secure the frame.
Ventilation and Exhaust Ports
Ventilation and exhaust ports make creating an optimal environment inside the tent easy. You need at least one ventilation port to release any built up hot air, larger tents need more. Exhaust ports need both an intake and outtake to function properly. Having these ports makes it easy to set up your equipment and begin growing without having to run any extra cords.
Grow Tent Sizes for Growing Marijuana
There are many different sizes of grow tents available and you are sure to find one to fit your needs. The amount of space you have for your tent and the amount of plants you want to grow will determine the size of grow tent you will want to buy. Make sure to double check your measurements of the area where you are planning to assemble the tent before placing your order.
The strain of cannabis you want to grow will also play a part in choosing the size of your grow tent as some grow wider and taller than others. Each plant should have an average of four square feet.
The most common sizes that growers stick to are smaller tents, somewhere around 24''x 48'', and medium, around 48'' x 48''. Starting small is usually best for beginners, as they are able to develop their green thumb without feeling overwhelmed.
Moving up to a medium sized tent allows you to double your harvest without having to take on a tent that is too much bigger.
And tents also come in much bigger sizes for those looking to grow plants on a larger scale.
Our 12 Best Grow Tents for Growing Marijuana - 2017
OK, we've covered why growing cannabis in a grow tent is ideal, what to look for when purchasing a grow tent, and what sizes are available. Now it's time to choose which grow tent is best for you.
Because ultimately the best grow tent is the one that best suits your space and budget.
To make things simpler, we've separated the review into small, medium, and large grow tents.
Best Small Grow Tents
The first four grow tents on the list are compact in size. They can easily fit in the corner of a room or in a closet, without having to compromise the original purpose of the room that it is placed in.
A smaller size is great for a hobby grower who prefers smaller harvests of one or two plants at a time.
Yaheetech 24″x 24″x 48″ Hydroponic Indoor Garden Grow Tent Non Toxic Room
This is a great option for those that are new to indoor growing. Because at this low price you won't have to make a huge investment before you decide if indoor growing is for you. Even though the price is low, it still helps to maintain an ideal grow environment for your weed. The fabric is not the most durable on the market, but 600D Oxford Cloth is impressive for the price.
This grow tent provides added protection against any unwanted pests with reinforced sewn-in edges. It features three rectangular air vents located at the bottom of the tent, which do let a small amount of light escape due to their position. This is something that some customers have found annoying, but overall nothing that has harmed their precious plants.
It also features a T-opening instead of a D-shaped door. This means it has flaps instead zippers, taking away any worry of wear and tear on the hardware. The T-opening helps to reduce the amount of light that leaks as well. The corners of this tent snap together to help ensure stability. Finally, the grow tent comes with straps that help to support any ductwork.
This size tent allows for a decent harvest amount without being overwhelming to grower who is just starting out. It is one of the smallest on our list, so it is not ideal for any growers that like to grow strains that get tall. But standing only four feet high, this tent will be able to fit almost anywhere you want to house your plants.
MILLIARD Horticulture D-Door 30" x 18" x 36" 100% Reflective Mylar Hydroponic Grow Tent
The Milliard Horticulture D-Door is a grow tent that is great for a hobbyist grower or a beginner. Its small size means you can easily assemble it wherever needed. But Milliard did not compromise quality for a compact size.
This grow tent has a strong frame composed of sturdy metal tubing. It also features two support bars for extra stability. Milliard also includes two robust metal rings for making sure your grow lights are safely secured above your plants. You can tell they really took the time to think about the how to make this grow tent as sturdy as possible.
The reflectiveness of the interior of a grow tent is one of the key things to look for when searching to purchase one. The materiel used by Milliard is 100% reflective and will help your grow lights work to their full potential. Your plants will be receiving evenly distributed light from all sides and angles to maximize your yield.
Milliard aims to make assembly as simple as possible. This is why this tent has innovative push lock corners that are made of heavy duty metal to allow for a tool free setup. Everything locks into place securely without even having to twist a bolt.
Not just the frame but the design of the whole grow tent itself has had a lot of thought put into it. Milliard have made sure to include tough reinforced zippers that can withstand daily use. Multiple intake and exhaust ports are found on this tent, too, to allow you to install any extra equipment needed. For instance, such non-included additions as filters and fans that would allow you complete control of the environment and temperature inside of the tent. A large window is another added convenience this grow tent features that allows you to check on your babies without disturbing their grow space.
Best Choice Products Grow Tent with Reflective Mylar - Hydroponics
Here is another great tent for beginner. It has all of the features a new grower needs without a high price tag. This grow tent has a very large door making entering to care for your plants easy. It also has many ventilation outlets for any extra equipment to be hooked up.
For the grower's convenience, these grow tents come with a removable floor tray that is constructed of PVC. If water or nutritional solution leaks, this is always a great add on to have for easy cleanup.
The heavy duty light resistant 600D polyester material will keep pests from getting to your cannabis.
Some customers found the instructions a little difficult to read and the zipper to be not as durable as other grow tents available. But with an average of almost five stars on Amazon, most customers seem very satisfied with the tent in the long run especially for the price.
Apollo Horticulture 36"x 36"x 72"
Apollo is known for their high quality grow tents and this compact number is no different.
They keep a careful eye on the small but crucial details. So this tent has durable metal zippers that can withstand the wear of daily use. Apollo have also used a double stitching technique to ensure that no light escapes and that the tent stays intact. Metal poles have been used too, to provide excellent stability and security for the thick material.
Your cannabis will receive an even distribution of light due to the tear-proof reflective Mylar lining. The lining returns 92-97% of the grow light's power back to your plants. Your energy bill will thank you. This grow tent also features a removable floor tray as an added bonus.
Setup is easy with the included instruction pamphlet and with all of the ventilation options adding your fans is simple too. Apollo offers a 90 day warranty and a 30 day money back guarantee. Customer service is also very important to the company. So if any problems do happen to arise, you can count on them to be there to help.
Best Medium Grow Tents
Medium sized grow tents allow for more options of strains to grow. They're also an ideal size for those growers who want to produce a high yield without taking up an entire room. A mid-size grow tent is still easily managed, but gives more room to expand.
Gorilla Grow Tent Lite 48" x 48" x 79"
Gorilla is a brand that has an appropriately big reputation for top quality in the grow tent world, but it does come at a higher price point. This mid-sized Gorilla Grow Tent is a part of their Lite line, which is half the price and almost the same quality as their original line.
Featuring a steel frame, steel interlocking corners, and one of the most durable and largest zippers on the market, you can be assured that this grow tent is tough enough to last you through many harvests. You won't find any plastic anywhere in the design of this grow tent.
An observation window is found near the door, so you can check on your plants easily without going in. A tool pouch is also included so you can keep any frequently used products close by. Ducting ports and a spill tray can also be found on this high quality grow tent.
One difference between the Lite line and their original line is the thickness of the material. The canvas used for the Lite line is not as thick, but still keeps light in and pests out. However, thinner material means Lite grow tents are lighter in weight making them easier to transport.
Lite line tents have an expander kit that can be purchased separately. Meaning your tent can be expanded up to 1'in height with this additional purchase. Which gives you the flexibility to grow taller strains.
Apollo Horticulture Mylar Hydroponic Grow Tent 48" x 48" x 80"
High quality and durability is something that you can count on when purchasing a grow tent from Apollo. We're talking thick material held up by strong metal poles and a good sturdy structure. And the addition of durable zippers and double stitching make this grow tent top quality.
The 100% reflective lining increases the intensity of light that your plants will receive. It's also tear-proof. Along with the correct ventilation equipment, this tent will allow your cannabis to grow robust and strong by maintaining the proper temperature and humidity for growth.
Two filter straps and a removable Mylar floor tray are included as well.
For a grower looking for high yields without having to take care of too many plants, this tent is an excellent choice. Harvesting a pound or more of weed is easily done with a grow tent of this size.
LAGarden Reflective Diamond Mylar Hydroponics Indoor Grow Tent 48'' x 24'' x 60''
An aluminum frame keeps this grow tent stable. The rods are coated in white paint to prevent any corrosion and reflect more light in the tent. Each rod can hold up to 88 pounds.
With a fabric density of 210D, it is not the most durable on the list. Tears may be more prevalent, especially if you plan on transporting this tent frequently. However, the fabric is still light-proof and will keep any odors from being emitted.
The big selling point is the LAGarden's grow tent's 100% reflective diamond Mylar interior, which will give your plants as much quality light possible.
Vents with mesh offer the requisite ventilation while reducing the amount of light that can escape. Multiple outputs are included for added ventilation.
Nylon belts for hanging your grow lamps and a Mylar reflective floor tray with belts are included with your purchase.
The height that this tent provides is great for strains that grow taller, while still not having to take up too large of an area.
VIVOSUN 48"x 24"x 60" Mylar Hydroponic Grow Tent
For the price, this medium sized tent is top quality and very durable. You'll notice this first in the thickness of the canvas. The tear-proof material is double stitched with a density of 600D. It blocks pests out and keeps in all of the light and maintains an optimal growing environment for your cannabis.
A frame made of strong metal with a smooth finish gives support and stability to this tent and also allows for easy installation. No tools are necessary for getting this tent set up. Quick and easy setup was the goal for Vivosun.
Vivosun also paid special attention to the zipper, as they recognize the importance of this detail. Since this is a piece of the tent that the consumer uses daily, they went above and beyond to ensure that they have the best heavy duty zipper available. Unzipping is also a smooth task with this high quality zipper.
Adding more efficiency to any lighting set up, the Vivosun's 95% reflective Mylar lining will work well with your cannabis's preferred lighting configuration.
Dual ventilation socks and carbon filter belts all add convenience. An observation window was included so it is possible to check on your plants easily and comfortably without entering.
A two year warranty is also included with your purchase to give you peace of mind in case something happens to go wrong. But I don't think this is something to be concerned about, judging by the 4.4/5 stars and glowing reviews this tent has received on Amazon.
Best Larger Grow Tents
Although a large grow tent may seem like more space than you need, it is always better to overestimate than to think small. If you purchase a smaller grow tent and wish to expand later, you will have to buy a larger tent. However, if you plan ahead and buy a larger tent to begin with, you've saved money long-term.
Obviously not everyone will utilize the capacity of a larger grow tent. For one thing, not everyone has the space.
But if you're an experienced grower and/or planning to have many plants at any one time, investing in a bigger tent can pay off. Apart from anything else, the extra space and room to move just makes life so much easier.
Urban Farmer 57"x 57'' x 78'' Reflective Mylar Hydroponic Grow Tent
Urban Farmer offers a larger size of tent without it costing an arm and a leg. This tent can easily fit many plants at one time allowing you to have a massive yield.
No bells and whistles on this tent though. Just the basics. Thick Velcro panels, a strong and durable door with a strong zipper, and flood-proof floors help to seal the tent tightly. It will keep light from being emitted and coming into the tent as needed. Pests will be kept from disturbing your weeds growth.
The reflective Mylar lining effectively disperses light, allowing your plant to absorb the nutrients from the light from multiple directions. The heavy-duty lining also traps tell-tale odors inside.
Although this is not the most impressive option, it will certainly get the job done. Especially if you're on a budget. Your weed will have a controlled and sealed environment to grow successfully and that's the main thing.
iPower Mylar Hydroponic Grow Tent 60'' x 60'' x 80''
A resilient, reasonably priced, large grow tent is what you'll get with the iPower Mylar Hydroponic. The durability of the iPower's tear-proof material holds up to the wear and tear of life. Strong 5mm 3-ply vinyl keeps this grow tent from being damaged. The sturdy frame is 110 pounds and made of heavy duty steel.
Efficiency was also taken into consideration when designing this tent. The interior is made of 95% reflective Mylar and returns 92-97% of the light back to your weed. Thus, you'll be able to increase yied without using more electricity.
Assembly is easy with a tool free set up. Two filter straps and a removable Mylar floor tray are included with your order, keeping up with other similar grow tents that are available. A one year warranty is also included.
The iPower Hydroponic Grow Tent also comes in an even larger size, 120'' x 120'' x 78'', if you are interested in increasing your growing potential.
VIVOSUN Mylar Hydroponic Grow Tent, 96'' x 48''x 80''
This is the largest size that the Vivosun Grow Tent comes in, 96'' x 48'' x 80''. Giving you plenty of room to grow lots of weed at one time.
Vivosun is meticulous about attention to detail to ensure the satisfaction of their customers. They make sure the zipper is made of heavy duty metal and works smoothly. They've also made sure that the grow tent's door is easily accessible so you can comfortably check on your growing pot.
Additional features include dual ventilation socks, carbon filter belts, connectors that do not require tools, and removable Mylar floor tray to allow for easy cleaning.
The 600D canvas effectively blocks out all light from escaping and any light from getting in and is also tear-proof. Like their other model, it is double stitched to give additional light blockage and durability. The interior lining is made of a 95% Mylar that increases the productivity of any lighting arrangement.
No tool installation makes assembly simple and fast. A tool pouch and easy view window are nice additions that growers will appreciate. The two year hassle free warranty is another great added bonus.
Gorilla Grow Tent GGT59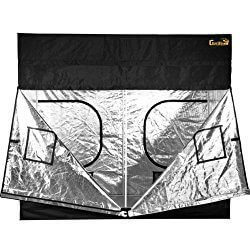 Gorilla Grow Tents are some of the highest quality tents available. They are almost always the top of every "best grow tent" list with the only con against their tents being the price.
For a grower who is only looking for a simple and effective grow tent to raise their cannabis, you can achieve this at a cheaper price point.
But if you just want the very best, Gorilla's grow tents should always be on your shortlist.
So what are you getting for the higher price? One of the highest quality material tents on the market with a thread density of 1680D. This is thicker than most tents on the market that only average 200D-600D, making this tent three to nine times denser. Smell and noise is easily trapped inside this thick material. Especially important for stealth growing.
You are also paying for the strength of the frame. A solid metal interlocking frame that can hold up to 300 pounds and is meant to be two to five times stronger than any competitor's frame.
The diamond reflection technology on the interior lining also gives your weed the most light that it can get from your lighting setup.
Cannabis is the perfect plant to grow in these grow tents because it has features like an infrared blocking roof. This keeps the surface temperature cool and makes sustaining ideal temperatures inside simple.
The height of the tent is adjustable as well. It can be 7', 8', 9', or 10' tall depending on your needs with the free height extension kit included with your purchase.
Finally, the GGT59 also features a tool pouch, double cinching ducting ports, bug resistant feature, and tough flood pool. No plastic is used on this grow tent and they feature some of the largest zippers on the market.
Pretty much everything a grower could need.
High quality materials and construction make this grow tent durable enough to outlast others on the market. However, it's up to you if the undoubted extra quality is worth the high price tag.
Summing Up
With all of the great grow tents available, there are multiple tents to choose from and any number of them can work for you. Just make sure to look for certain features to ensure that you are picking the best tent for your growing needs.
Keep in mind the quality of the zipper, canvas, and frame so they can withstand wear and tear from being used. You don't want to purchase a cheap, low quality tent that you have to continually replace, patch up and reassemble.
Pay attention to the reflection capability and make sure it is mostly light-proof. Your grow tent is supposed to aid your grow lights to work as efficiently as possible. Don't let your light be wasted and leak through.
Look for additional features too. Ventilation ports are important especially if you are using a light that requires a cooling system. (Although we recommend cool-running LED grow lights for just that reason.)
Our Picks
You can use grow tents for all kinds of crops, and you'll find numerous manufacturers and models. But for cannabis Gorilla and Apollo are still two of the main names to beat.
But ultimately, finding the balance between what features will work best for your growing style, the space you have available and the price you want to pay is the best way to pick the best grow tent for you. Once you find the right one, you will be well on your way to big buds in no time.
Happy Growing!
Photo credit: Lemon kush, day 56, full by eggrole. (License.)