Why do you need a weed grinder? Smokers and vapers know the answer. Grinding your marijuana makes it smoke better and last longer.
Grinding gets rid of stems so that the smaller bud pieces give you a cleaner burn.
A weed grinder can also help you collect kief for a higher high.
You'll save more by grinding marijuana, instead of breaking it up with your fingers and losing a lot of resin. If you're growing it yourself, you won't want to waste any of that hard work.
To help you get the most out of your cannabis, we researched the top herb grinders for you in this review. Get one, get two, and you'll always have a grinder with you.
Best Weed Grinders on the Market
Once your bud's harvested and trimmed, you may well be looking to prepare it to smoke or vape. We've looked at the best weed grinders on the market and selected a wide range to choose from. Hopefully you should find one here to suit your own unique needs, aesthetic and budget. (Also, check out our Gift Ideas post for a few more grinder recommendations.)
Platinum Grinders Herb Grinder with Pollen Catcher - Large 2.5 Inch 4 Piece, Black Aluminum - Best Budget Grinder
[amz asin="B00QUIA27C"]
We'll begin with a very popular herb grinder from Platinum Grinders. It's a best seller because the price is great for the quality product you get. At 2-1/2-inches tall, it's larger than some of the other grinders in this review so you grind what you need at once.
Platinum Grinders milled the four pieces from black aircraft grade aluminum. It looks professional and discreet and it resists scratching, flaking, and rusting. When you hold it in your hand it feels nice and it's easy to use. The textured surface on the top and bottom pieces help you keep your grip while you grind.
Put your nugs into the top piece. The 49 diamond-shaped cutting teeth inside make quick work of grinding buds. The ground pieces fall into the middle part and the finest pollen collects on the steel mesh screen in the bottom piece. Platinum Grinders includes a pollen scraper so you can collect this dust, or kief, to add to a bowl later.
The grinder has neodymium magnets to keep it sealed shut. That protects your weed to keep it fresh and it keeps odor to a minimum.
Platinum Grinders offers a warranty with a 100% money-back guarantee that you'll be satisfied with this grinder.
Zip Grinders - Large Herb Grinder - Four Piece with Pollen Catcher, 3.25 Inches Tall - Premium Grade Aluminum - Best Big Weed Grinder
[amz asin="B00T225NH2"]
Zip Grinders sells an even larger four-piece grinder. It's 3-1/4-inches tall so you can grind up to 6 tablespoons at once. Plus, it's actually two grinders in one. You can remove the clear center chamber so that it becomes a three-piece pocket-size grinder.
Of course, besides cannabis, you can grind up culinary herbs like basil or oregano. It works best if the herbs or your buds are dried first.
There are 49 diamond-shaped teeth for grinding and a 100-micron mesh screen for collecting pollen or kief. The acrylic window in the lid and the clear center chamber let you see at a glance what's inside. But don't worry about spills; there are magnets to keep it sealed so your weed stays fresh.
Zip Grinders offers a money-back satisfaction guarantee.
Zip Grinders - Large Spice & Herb Grinder - Four Piece with Pollen Catcher - 3.25 Inches Tall (2.5", Gold)
[amz asin="B00XBBAW7G"]
Here's another large grinder from Zip Grinders. No, it's not discreet. This is flash to show off your stash. It's gold CNC-milled aluminum with a transparent window and a clear center chamber.
Take away the clear center piece and the grinder converts in a pocket-size version. The 49 sharp diamond-shaped teeth make quick work of nugs, herbs, and tobacco. Pollen collects on the 100-micron steel mesh at the bottom. You can collect it with the pollen scraper they include in the box.
Neodymium magnets keep your grinder sealed shut so it won't spill even if you drop it. Like they do on their other models, Zip Grinders offers a money-back satisfaction guarantee.
Golden Bell 4 Piece 2" Spice Herb Grinder - Nickel Black
[amz asin="B01CQ9FYXK"]
If you want a smaller grinder that fits better in your pocket, check out this handsome nickel black zinc alloy one from Golden Bell. Although it has 4 pieces like the larger grinders above, it measures just 2 x 2 x 1.5 inches in size. There are only 30 teeth but they make quick work of crushing up herbs and weed.
Of course, it has a magnetic closure, a mesh screen for pollen collecting, and comes with a scraper. Golden Bell offers a lifetime warranty.
Zip Grinders - Pagoda Tower Spice & Herb Grinder - Four Piece with Pollen Catcher - Premium Grade Aluminum (2.5", Black)
[amz asin="B00ZVEVG0I"]
If you liked the larger Zip Grinders above, but they are a little too large or flashy, take a look at this 2-1/2-inch tall Pagoda Tower Spice and Herb Grinder. It's made from CNC precision-milled aircraft grade aluminum in a discreet black color.
The glide rings and sharp teeth grind smoothly through buds while the pollen collects on the 100-micron mesh screen below. Zip Grinders say you can use this one to crush fresh herbs as well as dried ones. If you're not happy with it, just return it for the money-back satisfaction guarantee.
Ohuhu 4 Pieces 2.38" Tobacco Grinder/ Spice Grinder/ Herb Grinder/ Weed Grinder with Mill Handle (Hand Mill), Elegant Black
[amz asin="B00Y9Y6STU"]
If you're not a fan of twisting to grind, take a look at this Weed, Tobacco, Spice, and Herb Grinder from Ohuhu. It has a mill handle right on the top that you spin to crush your cannabis. Looks kind of like something you'd see in a kitchen somewhere, right?
The body is constructed from zinc alloy and has a 4-piece, 3-chamber design. The large clear top lets you view how well it's working while you grind, but the magnetic closure keeps it from spilling your secrets. Since it's just 2-1/4-inches tall, it's pocket-sized.
Users have commented that it grinds quietly and smoothly. It comes with a kief scooper so you can collect the pollen from the mesh screen after you grind.
Sharpstone Version 2.0 Clear Top Grinder - New, Improved and Redesigned, Black
[amz asin="B018UPB0VY"]
You may have heard of Sharpstones. Their brand name is like another noun for a grinder. This one is an authentic serial-numbered Sharpstone in a new, updated design. It comes with a protective cloth carrying pouch.
Sharpstone has added features like a transparent magnetic top to compete with other brands filling the grinder market. This model measures 2.8 x 2.5 x 2.6 inches so it's somewhere in the middle between the large ones from Zip Grinders and pocket-size ones like the Golden Bell.
Cali Crusher Herb Grinder 4 Piece Blue
[amz asin="B004VB3P9C"]
Cali Crusher sells this bright blue beauty. It's made from aircraft grade aluminum, has a stainless steel mesh collector screen, and comes with a custom pollen scraper. It's about 2 inches in diameter to keep it in the pocket-size range.
Chromium Crusher 2.5 Inch 4 Piece Tobacco Spice Herb Grinder - Gun Metal
[amz asin="B00700W0TW"]
Here's another small but powerful 2-1/2-inch grinder from Chromium Crusher. It has a 500-micron mesh screen to catch kief. Its body is milled from zinc and aluminum. This high level of durability is backed by a limited lifetime warranty.
Sharp Shredda Herb Grinder with Pollen Catcher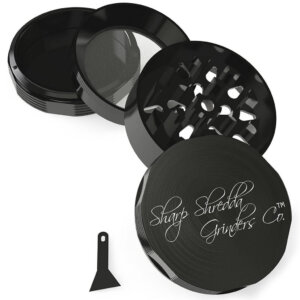 [bfa asin="B00ELAP3X4"]
Sharp Shredda stands behind their grinder with a stress-free money-back guarantee. They point out some key features that you may appreciate if you're already a smoker.
One, they guarantee that the grinder's razor sharp teeth won't break or flake, nor will they pulverize your weed into dust. They include a pollen scraper so you can collect the kief it does create from the mesh screen at the bottom.
Like most grinders these days, this one has a magnetic closure to keep your weed fresh. It's small at just two inches in size and it comes with a carrying pouch.
Alternative grinders - Make America Grate Again?
What's that you say? That these pocket-size grinders aren't really pocket-size at all? Sure, you can tell mom and dad that's just your container of Carmex, but what if they tell you to turn out your pockets? Hmmm…
We found a solution for you. Check out these grind cards below. They will fit in your wallet or work as a bookmark between the pages of that textbook you're supposed to be reading. However, grater cards might be a better description than grind cards...
Grinder cards from V. Syndicate
What works like a cheese grater to crush up your weed? A Grinder Card from V. Syndicate. They come in various grades of grind surfaces, from fine to medium and coarse, so pay attention to which ones you choose.
Don't worry about taking skin off your knuckles. They are actually pretty finger-friendly and safe to use.
If you're worried about the purity of your product, these cards are all made from medical-grade stainless steel. You can clean them with alcohol.
V. Syndicate Classic V Grinder Card
[amz asin="B008GV3NRW"]
Grind surface: medium
V. Syndicate Ace of Spades Playing Card Herb Grinder Card
[amz asin="B00LBL4API"]
Grind surface: medium
Roaring Lion- V Syndicate Grinder Card
[amz asin="B00TXXHZYY"]
Grind surface: coarse
Alice in Grinderland White Rabbit Grinder Card
[amz asin="B00JK1M67U"]
Grind surface: fine, medium, and coarse
Alice in Grinderland Cheshire Cat
[amz asin="B00MNQDTUW"]
Grind surface: medium and coarse
Grinding accessories
Pollen scrapers are tiny and easy to lose. But they're invaluable for getting kief out of the kief catcher. So here are some replacements—as well as a few other useful smoking accessories.
5 Piece Pollen Kief Keef Scrapers for Tobacco Herbs Grinders
[amz asin="B00IEKUVH0"]
If you're not picky about your pollen scrapers, these are inexpensive. They have a little hole punched in them so you can stick them on a keychain.
Herb Grinder Pollen Scrapers - Zip Grinders (6, Clear)
[amz asin="B00XV54ZA2"]
These are clear plastic pollen scrapers for your kief.
ZIG ZAG WRAPS 42 PACKS, 21 DIFFERENT FLAVORS
[amz asin="B076W8FM57"]
If you like to roll your own, you can fit up to 4 grams into one of these Zig Zag wraps. That's like a king-size cigar. They have a variety of flavors like grape, melon, and Dragonberry.
If you use a rolling machine, these need one that's 120mm or 4-3/4-inches.
RAW Classic Natural Unrefined Rolling Papers 79mm 1 1/2 Size Pack (6 Packs)
[amz asin="B01AWPNH20"]
These classic RAW rolling papers don't mess with the natural flavor of your weed. They're made from unbleached flax and hemp and work with filter tips.
RAW 79mm 1 1/4 Hemp Plastic Cigarette Rolling Machine
[amz asin="B002CNE9H8"]
If you suck at hand-rolling, there's no shame in that. Use this RAW rolling machine made from hemp plastic. It fits the 79mm papers listed above.
RAW Organic Unrefined Pre-Rolled Cone 32 Pack (1 1/4 Size)
[amz asin="B01AOB4BNG"]
Let them roll cones! These unbleached organic papers made from hemp make for an unflavored, easy way to roll your own blunts.
Newness Stainless Steel Modern Tabletop Ashtray with Lid
[amz asin="B014FRV188"]
This is a nice-looking stainless steel portable ashtray with a lid. It's about 4 inches in diameter.
Bic Lighter Classic, Full Size, 12 Piece
[amz asin="B00IMVL206"]
You'll always have a light when you need one. Here's a dozen inexpensive Bic lighters at one cheap price.
GSTAR 11" Premium 1 Hose Hookah Complete Set
[amz asin="B00BTH48F6"]
This is a good deal if you're looking to buy your first hookah.
Anodized Aerospace Aluminum Pollen Press with 3 Metal Dowel Rods by Interplanetary Development
[amz asin="B016DTU8DK"]
We've mentioned kief like eight times already. What is it? It's pollen, it's the magic dust from trichomes that gives you a better high.
Interplanetary Development sells this Pollen Press made from aerospace aluminum. It contains rods of different sizes to press your pollen into concentrated hash.
Alternative ways to grind
If you don't have your grinder with you, there are other ways you can break up buds without using your fingers and wasting all the resin.
Cut or chop it
Use scissors or a sharp knife to cut the nugs in a cup or bowl. You'll probably get some hash on the blades.
Pill bottle and coin
Take an empty pill bottle and put the buds inside with a clean coin. Put the lid on tight. Shake the bottle until the weed is broken up enough for you.
Grinding FAQ
Q: What is Kief?
A: Kief, keef, or kif is the dust from the resin-covered hairs or trichomes of cannabis. (It's also a city in North Dakota.) It's got a high concentration of THC, one of the psychoactive cannabinoids. Collect it from your grinder's mesh screen and press it into hash or hashish. You can smoke it or vape it. If you go to Morocco, kif is also the name for a mix of marijuana and tobacco that's smoked in a long pipe.
Q: Why bother grinding with a grinder?
A: If you break up buds and flowers with your hands, you'll get resin on your fingers and basically waste it in most cases. Chopping with scissors or a knife does the same thing. Grinders are handy because you get a smoother grind with good texture for rolling and smoking, plus you can collect the kief or pollen. They'll also come in handy when making edibles.
Q: What kind of weed grinder is best for making edibles?
A: When making edibles you're looking for something that will give you a nice fine grind—the finer the better. Why? Because when you're making your oil or butter you want the maximum amount of cannabinoids and terpenes to leech out into the fat. A finer grind means more of the surface area of your bud is exposed, making the whole process much more efficient. The Platinum Grinder above should do the trick—turn it upside down for a finer grind. Or if you've got a bit more cash to spare, the Kannastör Gr8tr V2 is renowned for giving a particularly fine grind.
Q: Do you need to grind if you vape instead of smoke?
A: It's a really good idea to grind up for vaping or vaporizing marijuana. It evens out the burn and the flavor and reduces the risk of combusting the weed.
[videoy id="MW9ySaZkyKY" ]
Wondering which grinders they're using? One is a Zip Grinder (see above). Or click here for the red/pink Santa Cruz Shredder.
Recommendation
If you're new to grinding weed, you can feel good about choosing any one of the grinders we've reviewed today. We did our best to choose top quality grinders with the best value for the money.
If you're looking for both a portable model and a larger grinder, consider getting one of the Zip Grinders that convert between three and four pieces.
Don't ever settle for plastic grinders. They tend to chip and flake. Stick to aluminum and zinc alloy for best results.
Conclusion
Check back soon for reviews of the best products for enjoying marijuana to the maximum. And check out our home page if you're a grower for our selection of the latest and greatest LED grow lights.